YTC Nashville – Concert List – Week Ending 2/20/11
I hope all you lovebirds had a romantic Valentine's Day.  If you still owe your girlfriend or wife a gift, may I suggest Viktor & Rolf 'Flowerbomb?'  It smells like heaven.  But enough about my new perfume, what the heck are we going to do this week?
Tuesday, February 15th:
Bows & Arrows @ The End – $5 – 9PM
A friend of mine couldn't say enough great things about this band, and I have yet to catch a whole set. Also, on the sched is Reid Magette and The Devin Robinson Band.
The Movement w/ Villanova @ 12th and Porter – $5 – 8PM
We finally got a taste of warm weather over the weekend, and it felt glorious! Keep that feel-good streak going with the islandy sounds of The Movement. This band is also perfoming on 311′s sold-out cruise next month. I know…how great does a 311 cruise sound?
Wednesday, February 16th:
Ozzy Osbourne w/ Slash @ Bridgestone Arena – 7:30PM
This is the highlight of our week – no, month. Actually, it's the highlight of our year, so far!  We saw Ozzy at the Voodoo Experience and it was one of those shows where you don't care how ridiculous or dated you look – you're rocking out. Hardcore! Plus, we have some BIG Slash fans in our crew. Things are going to get messy. Hey, it makes for great video!
Everything's Nice Presents Bassick Vol. 2 Featuring 6blocc @ Mercy Lounge – 9PM – $15 – Can you say AFTERPARTTTTTAAAAAY?!?!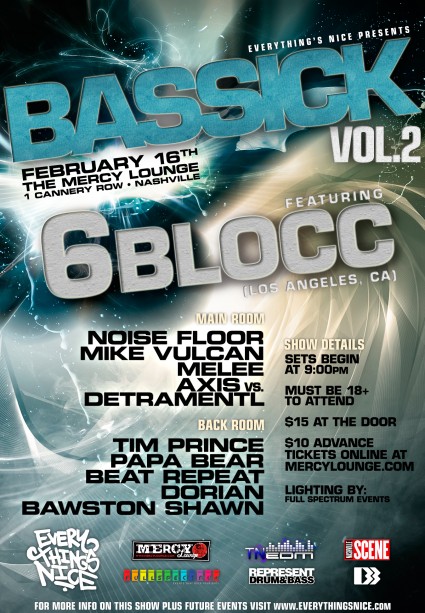 Thursday, February 16th:
Big Poppa's UDG & Nashville Scene" SAVE WRVU: Stacie Collins, Cold Stares, The Ettes, Icandy, Adalene, The Worsties, The 5 Tones, Meant To Bleed, and Chris Hurt)@ Exit/In – $5 – 8PM
I've been wanting an opportunity to fit this into YTC somehow. Here's my chance.
Syndicated radio pays my bills, and I love the programming my company produces for stations. I truly think it has saved many stations from going under over the past couple of years. However, even a "lamestreamer" like myself will admit when they've heard the same playlist too many times.
The fact is, there isn't any money to use on experiments, and terrestrial radio is doing what it can to stay afloat and relevant. With the new PPM (Portable People Meter) listener measurement system, listener dropout can seriously affect a station's income. Therefore, radio sticks with what's selling and what people expect. And, this pisses a lot of people off.
Clearly, from the recent Arcade Fire Grammy win and the shocked viewer response, there is exceptional music out there that simply goes undiscovered. It's too risky to take a chance on something that doesn't match the playlist of a popular commercial station. This is where college and independent radio comes to the rescue by going against the grain and giving local and unsigned bands some airplay along with showcasing acts that are under the radar.
WRVU is Vanderbilt University's station and it's the most eclectic in town by offering a huge spectrum of artists from all flavors of Indie and Dance to Jazz and Honky Tonk (and really everything in between).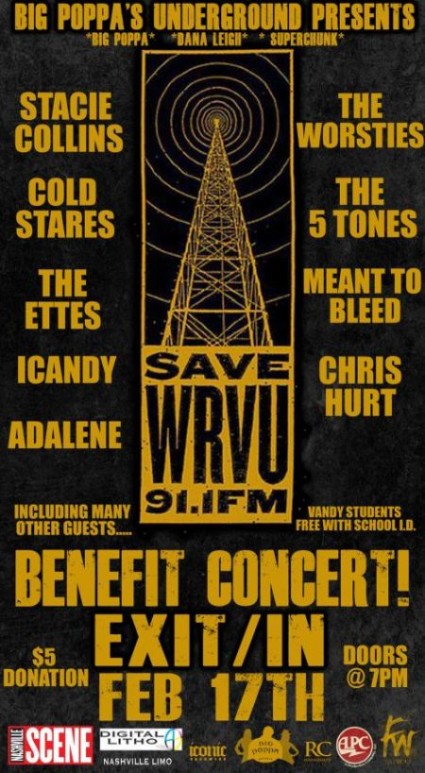 Last year, it was reported that Vandy might be selling their on-air license, and putting the station strictly online. I'm sure most people stream the station, but you don't just take it off the airwaves. Radio is a classic form of entertainment, and it can't and won't go extinct. This special station not only helps teach students the craft and business of radio, but it also unites a community packed with people that live and breathe music. We are very lucky to have WRVU, and if any city should have a kick-ass college station…shouldn't it be Music City? Once Nashville folds, how will other schools respond?
All that said, Nashville is all about saving WRVU, and there's a show on Thursday to help the cause. Be there and buy some merch! You know, you just got paid. If you're an out-of-town reader, check out the WRVU stream. Seriously, you'll like it:
Friday, February 18th:
Adolescence called. He's taking over Friday night.
Jimmy Eat World @ Cannery Ballroom – 8PM
Kid Rock @ Bridgestone Arena – 7PM

Rent Auditions @ Nashville Dinner Theatre – 8PM
If you like musical theatre, check out the auditions for Nashville Dinner Theatre's production of "Rent." If this has a good turnout, I think NDT is onto something. Kind of an open mic night for Gleek in all of us.  If you want to audition, prepare two songs and bring sheet music. Duh!
Saturday, February 19th
The Long Players perform Pink Floyd's Dark Side of the Moon @ Mercy Lounge – 9PM – 15 smackers
Cheap Time, D. Watusi, Slammers, and Fox Fun @ Glenn Danzig's House – $2 – 8PM
Slash Featuring Fergie – Beautiful Dangerous