YTC Nashville – Concert List – Week Ending 3/6/11
Monday, February 28th:
We all know that the place to be on Monday nights is the Mercy Lounge for their 8 off 8th series that showcases eight local bands performing mini-sets. It's free, it's a fun time, a good mingle, and you get a crash course in what's happening musically around town. However, this week's edition is one of three ultra-fabulous, mega-fantastic, highly anticipated and much-debated…ROAD TO BONNAROO! There are three slots open on a Bonnaroo stage for local bands, and the "Road to Bonnaroo" helps determine who will snag the opportunity (and the artist passes, cha-ching!).  Winners are chosen by a combination of audience votes and panel votes.
Round one is going down on Monday, and there are some tough contenders: Evan P. Donohue, Courtney Jaye, Chancellor Warhol, Majestico, Heartbeater, Kink Ador, The Kicks, and Tyler Bryant
Show up early and pre-game with some Rock n' Roll Trivia; that starts at 7:00.  Bands start at 9:00!  See you hippies there.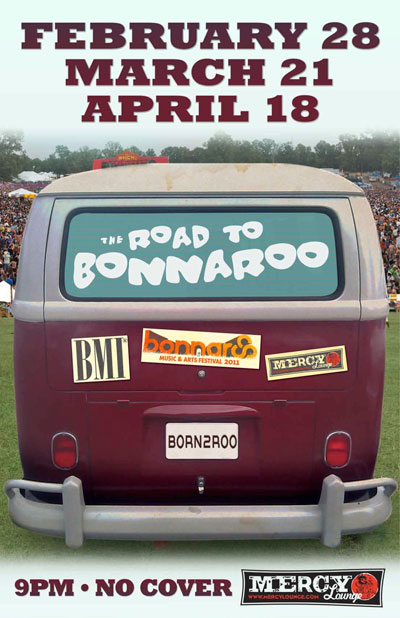 Tuesday, March 1st:
Country Music is Love @ Hard Rock Cafe – 7:30pm, $20
Featuring: Ty Brown, Josh Thompson, Troy Olsen, Chuck Wicks, Brett Eldredge, Thompson Square & Chris Cavanaugh
G. Love & Special Sauce w/ Apache Relay @ Exit/In – 7:30pm, $20
Too steep?  Try out The Basement's New Faces Nite. It's free!
Featuring: Michael Harrell and Punk Messengers, Nathan K, Courtlynn Carr, and Brett Ryan Steward
Wednesday, March 2nd:
From March 2nd to March 4th, Nashville will be buzzing with radio professionals and Country artists galore.  It's the Country Radio Seminar, and if you don't have a badge or have hook-ups in the industry, it'll be tough to do the fun stuff.  Fun stuff being the ACM Music City Jam with Blake Shelton, the New Faces Showcase with The Band Perry, Steel Magnolia, Josh Thompson, Lee Brice, and Jerrod Niemann, and the most elite event – the Sony boat.  It's better than the f*cking Catalina Wine Mixer.  For real though, I went one year, and it was a trip. Imagine a dinner cruise with the biggest names in Country performing and mingling with guests during the cocktail hour. They always have a surprise act on the bill. The year I went it was Peter Frampton.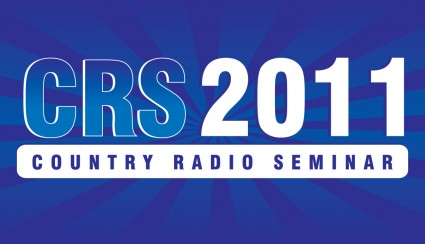 If you're into Country and want to schmooze with the big guys – buy them drinks at the Bridge Bar at the Renaissance late night. You may even see some stars strutting around there. I'll probably be in there at some point after American Idol on Wednesday/Thursday obsessing to everyone over contestant Paul McDonald; but I'll tell you about my love for him later this week.
The Forms w/ Bad Cop @ The End – 9:30, $5
Thursday, March 3rd:
Friday, March 4th:
Nashville's Dead Presents the Freakin' Weekend @ Exit/In – 8pm, $5
Featuring: Jeff the Brotherhood, Cy Barkley, Diarrhea Planet, and Jacuzzi Boys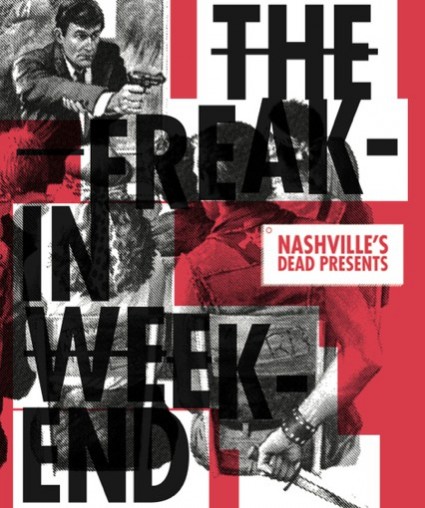 Saturday, March 5th:
Colin Hay @ 3rd & Lindsley – 8pm, $20
Pujol, Heavy Cream, D. Watusi, Ty Segall @ The End – 9pm, $5
Sunday, March 6th:
Clutch @ Mercy Lounge – 9pm, $22
Colin Hay – I Just Don't Think I'll Ever Get Over You