YTC – Nashville – Concert List – Week Ending in 01/09/11
New for 2011 – we've decided to start putting together weekly posts of upcoming shows that are "on our radar." What a concept!
Below are some shows that caught my eye. Sorry I didn't get this up yesterday, but the only thing that was on my radar was Lifetime's Craiglist Killer movie.
Tonight, January 4th: Ophiuchus w/This Hideous Strength @ The End 9 p.m. – $5
Ophiuchus has been on the bill with my favorite local rockers, Harlott, numerous times. They are way heavier than Harlott – we're talking some Death Metal shiz – but if you're down with it…Ophiuchus will melt your face.
Wednesday, January 5th: Baby Boy, Small Bones, Shrines, Nameless Cults, Asatru @ Little Hamilton – All Ages – 8PM – $5
I don't know any of these bands, and have never been to this "venue;" but, Little Hamilton sounds like a cool hang. I need to make it a point to go there someday. Maybe that day will be tomorrow. Who knows?
The Little Hamilton Collective fosters independent art, media, DIY education, urban sustainability, and community. Our goal is to provide tools that promote social justice and a place that welcomes and empowers all people. As an all-volunteer group, LHC is a resource available at no or minimal cost for community meetings, events, and workshops. Additionally, Little Hamilton offers: an infoshop/zine library, performance/gallery/studio space, community garden space, screen-printing workshops, and a co-operative bike shop. (from http://www.myspace.com/littlehamiltonshows )
Thursday, January 6th: The Jompson Brothers with The Hollywood Ten, The Kingston Springs, and Tesla Rossa @ Exit/In – 8PM – $10
I stumbled upon Tesla Rossa's savory little number below while browsing Bandcamp. I'd like to hear more from them. They were named The Deli Nashville's Band of the Month in December, and according to their Twitter ( @teslarossa ) , this might be your last chance to catch them in Nashville for a bit.
Tesla Rossa's FB description: Anthem-y vintage Brit throwback rock; a moody and declarative swagger. Tesla Rossa feeds their new brand of energy to the garage kept monsters.
Tesla Rossa – Waiting on the Sun
January 6th – 9th: Steve-O from Jackass will be at Zanies – $25

Friday, January 7th: H-Beam, Duncan May & the Resonators and Boom Ticket @ 5 Spot – 9PM
I visit H-Beam's MySpace page on a regular basis. There's something classic, yet fun in their sound – kind of "Zappa"-esque. It's really all over the board and they boast of a live show that "adds theatrical flair to Rock n Roll," and "imprints a lasting memory in the minds of those that dare to stray from the comforts of predictable rock formulas." I can dig that, and will dig that on Friday!
Also on Friday, if you have some holiday dough to spend, the Opry is at the Ryman Auditorium and features Rodney Atkins and Chris Young this week! Everyone should see the Grand Ole Opry at some point. 7pm – $54, $42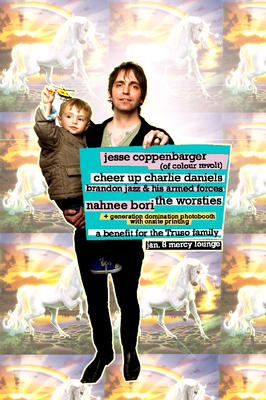 Saturday, January 8th: A Benefit for the Truso Family – Brandon Jazz & His Armed Forces, Jesse Coppenbarger (of Colour Revolt), Nahnee Bori (Cody Uhler of Kindercastle), Cheer Up Charlie Daniels, & The Worsties @ Mercy Lounge – 9 PM – $7 minimum donation
Perform a random act of kindness by seeing some random acts perform. :)

Start the year off right by doing a good thing and helping out a local family. I've been dying to see The Worsties for a while now, and I adore Brandon Jazz – so already this lineup looks pretty strong for my eyes.
What are your plans this week? Comment.
Have a rockin' week!