YTC + WMC = RAGE!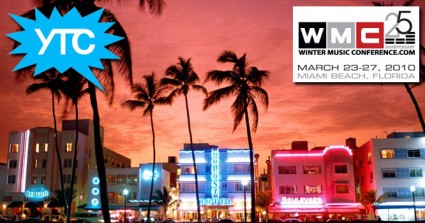 About 1 day from now Lorn and I will cross this great nation from Hollywood to South Beach.  We are traveling seperately and our paths may diverge, but you can be assured we will be found partying together.  I am bringing our friend Tyson with me and we have no official place to stay.  I have rented a car and we will wind up where ever the party takes us.  Ultra Music Festival, Ghostland Observatory, Mad Decent Parties, Fool's Gold Parties, Trouble & Bass Parties, Beach Parties, Pool Parties,  DJ AM Tribute,  and more…
Make sure to follow us on Twitter for on-the-go updates while we are at WMC! Me (@YouTellConcerts) / Lorn (@YTC_Mofo) / Tyson (@TysoncPhillips)
Mega thanks to MSO PR, HARD, Biz3, Undocumented Management, Trouble & Bass Crew, PopLife, and Deckstar for your support!
A LARGE list of parties (w/ flyers) that we will attempt to cover are listed after the jump!
THURSDAY
First stop… HARD Pool Party! After landing I will head directly to the rooftop of the Fountainbleau Hotel.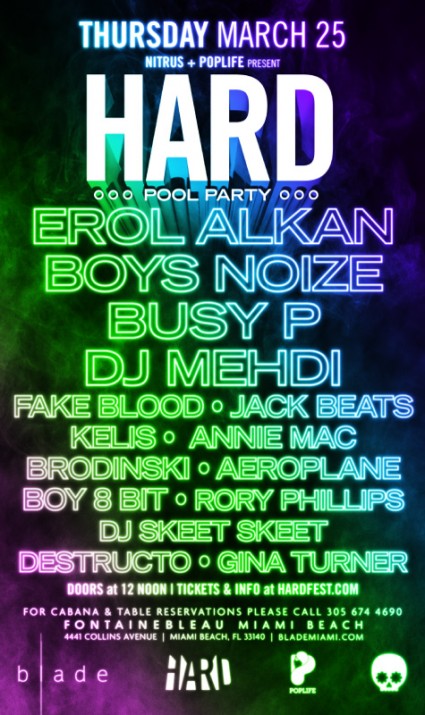 Are you looking at this line up? EROL ALKAN, BOYS NOIZE, BUSY P, DJ MEHDI, FAKE BLOOD, JACK BEATS, KELIS, ANNIE MAC, and more!  The party is SOLD OUT, but if you know what is what you should show up and weasel your way in anyway.
After a day of raging beach side on top of a 5 Star Resort Hotel we will some how manage to find our way to these 3 parties in an order yet to be determined.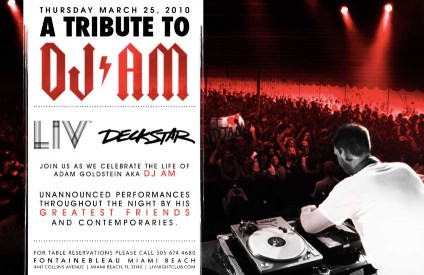 For the DJ AM Tribute @ LIV rumored guests include DJs from Mad Decent, Dim Mak, a friend of the Fresh Prince, and a very special performance from a DJ/Drummer collaboration.  This show is going to be insane!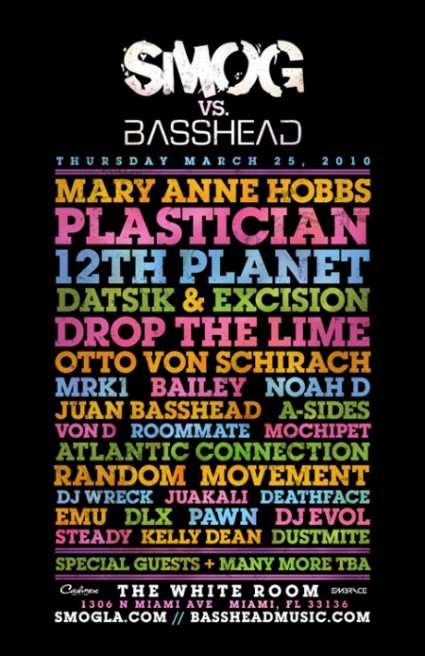 SMOG LA and Basshead Music are putting on this super grimey party at the White Room.  We love our grime and gotta drop in to see what the deal is on this.
However, rage central is likely going to be down the street at the Fool's Gold Records Showcase @ Grand Central (10 NE 7th Street).  Thursday night is promised to be the WORLD PREMIERE of Ducksauce! Also, this party is FREE!!!


FRIDAY
Friday has probably the most ridiculous gauntlet of parties I have ever attempted to attend. Luckily, they are easily broken up 2 categories… South Beach during the day and Downtown Miami at Night.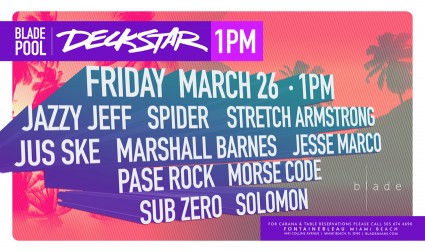 Last year I was able to catch Jazzy Jeff at a pool party in Miami and this year I am excited to do it again!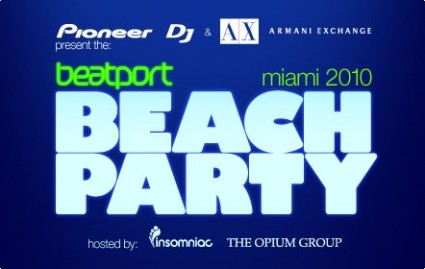 The Beatport Beach Party hosted by Insomniac is FREE and goes all weekend long.  I will definitely drop by on Friday.  Line up includes:  AC Slater vs Jack Beats, Bad Boy Bill, Bart B More, Bingo Players, Craze vs Klever, and more!
The first day of the Ultra Music Festival is on Friday and we'll probably try to stop in depending on physical viability and set times.
Then the night parties erupt with a deluge of events all taking place in a very close proximity to one another.  I have included this map…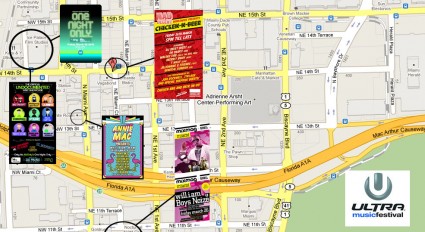 There are more parties than I'm willing to list in this post, but here are the ones that I can guarantee I will attend.
The Mad Decent Chicken and Beer Party.  FREE ENTRY / FREE CHICKEN / FREE BEER!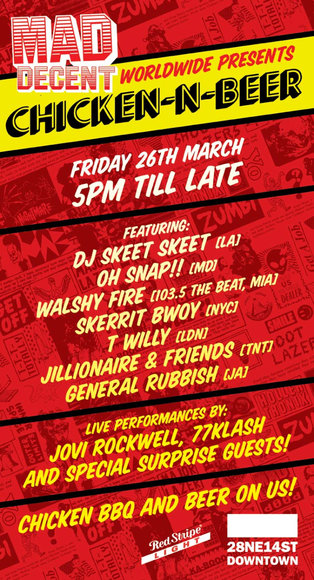 Also, right down the street is the AM Only & Undocumented Management Showcase that has a ridiculously huge line-up and is being held at 2 adjacent venues!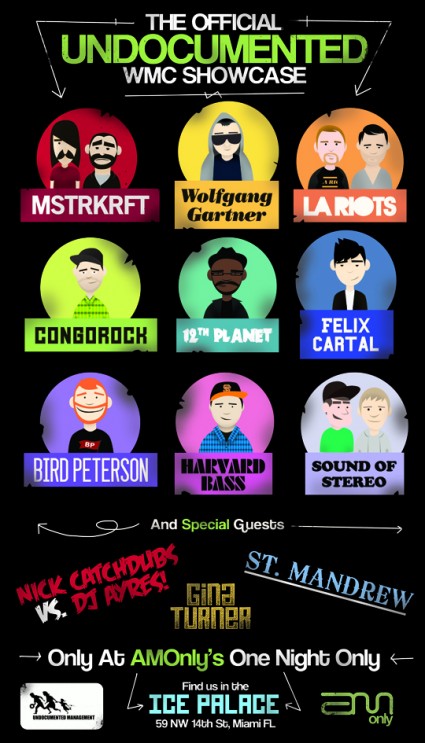 Close by are also the MixMag presents: wil.i.am, Boys Noize, and more! at Park West Nightclub and down the street at White Room is Annie Mac presents… w/ DJ Mehdi, Jack Beats, and more!
SATURDAY
Saturday I will likely attempt to recover during the morning and early afternoon before heading out to the second day of the Ultra Music Festival.  Artists on this day include Ghostland Observatory, Rusko, Major Lazer, A-Trak, Boys Noize vs. Erol Alkan, and a hell of a lot more!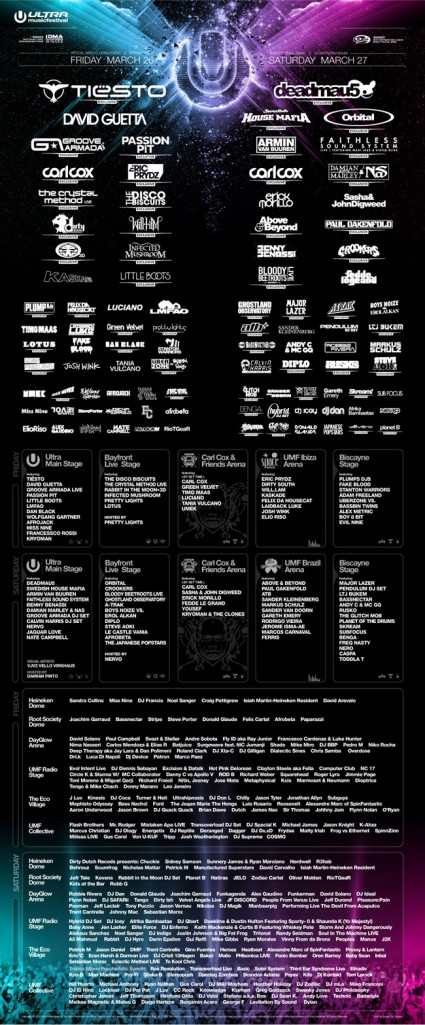 Then the after parties start.  First it's back to White Room for the Trouble & Bass Temple of Boom!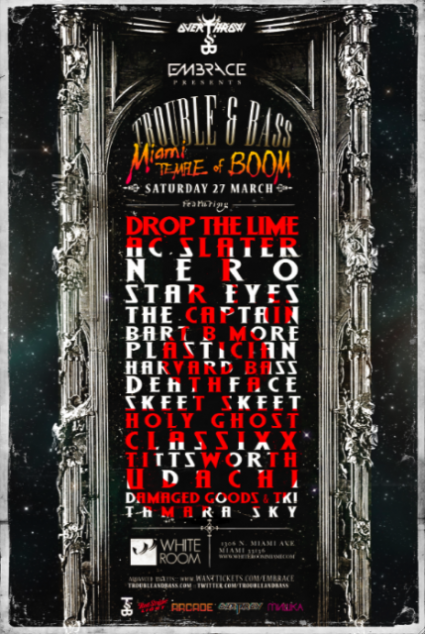 Then down the street at the Electric Pickle Fool's Gold Records, Mad Decent, and PopLife present MAD FOOLS with an insane line up and "MEGA SPECIAL GUESTS."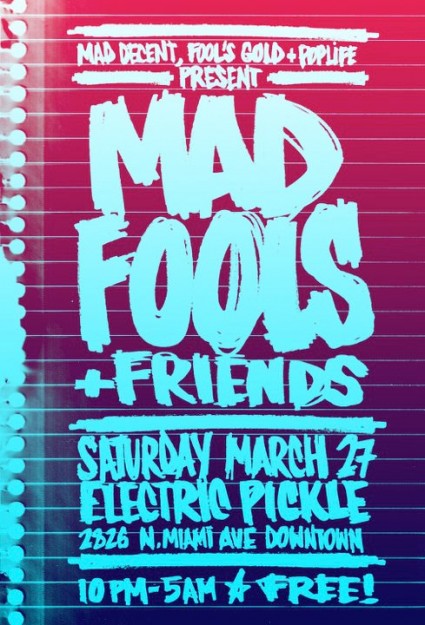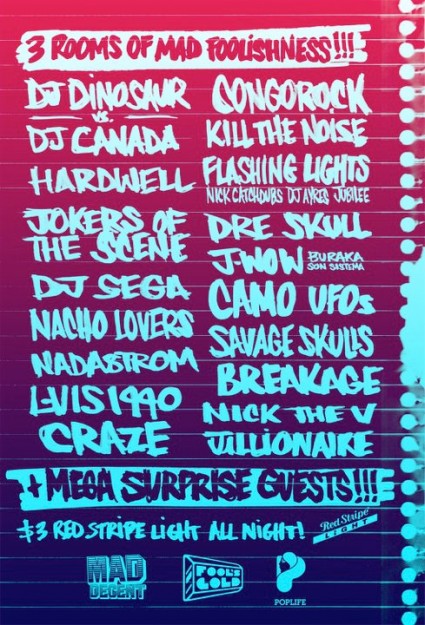 SUNDAY
After 3 days of straight raging, I will likely be attempting to haul my carcass back to Los Angeles.  However, if you are still in town you might want to try to catch up with Lorn who will be chillin at the Do Over.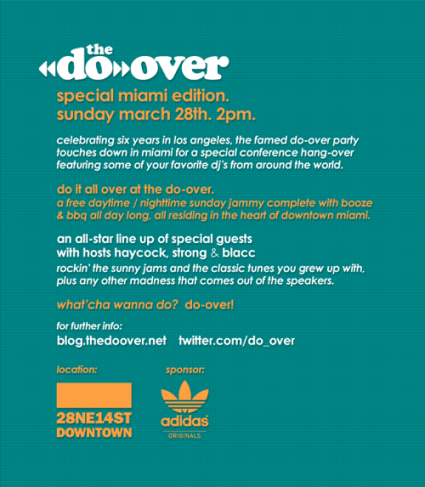 We will try to get some videos and pictures up on the web while we are in Miami, but you know that's probably going to be few and far between.  Check back next week for more detailed reviews and highlights from this year Winter Music Conference!